Industrial Belts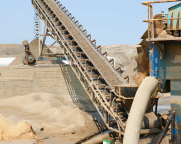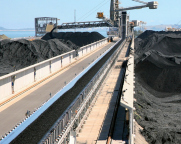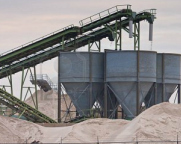 At Viking Conveyor we offer a range of industrial belts that are designed to handle the conditions in quarries and mines.  Check out our range below.
Quarrior
Quarrior is a quality M Grade Belt with high gouge and tear resistance combined with high abrasion resistance.  It is an excellent utility conveyor belt designed to handle sharp rock while maintaining good abrasion resistance to fines.

Tuffply
Tuffply is a high quality D grade Super Abrasion Resistant conveyor belt which performs best in applications handling abrasive fines such as coals, fertiliser, lime, sand, shingle and palm kernel. To further extend its wear, Tuffply has an additional 1mm of top cover.

Tuffply Primary
This is an M Grade Primary Belt with Breaker Ply which has excellent gouge, tear and abrasion resistance.

Viking
This is a general purpose, economical solution.  It is an N Grade Belt and suitable for general purpose.
Specialised

Belts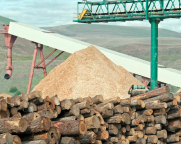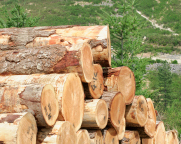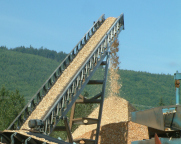 The belts below are what we consider to be specialised belts that have strong features and benefits to match the application.
Baler Belt
Tough, high strength product capable of handling the small pulley diameters encountered on round baler machines.

TimberMate - Sap and Wear Resistant Timber Belt
The workhorse of the timber industry TimberMate rubber conveyor belt has high tensile strength and extreme resistance to degradation from aggressive alpha and beta Pinene present in Radiata pine sap.   It is designed for handling bulk products including wood chips and wood scrap on troughed conveyors.
Benefits
Superior to MOR and SOR belts 
Nitrile rubber covers protect from attack by wood sap 
The Nitrile rubber will carry wood chip up a greater incline 
The 3ply heavy duty carcass gives strength for long run conveyors
TimberSlide
TimberSlide is a long lasting Timber rubber conveyor belt which slides with minimal friction, designed for handling timber on a flat steel/timber deck at speed.

Benefits
The heavy Nitrile rubber cover combines good impact and abrasion resistance with a high resistance to wood sap attack
The high strength 3ply EP160 carcass gives a high working tensile strength for long conveyors
Cushion rubber between the second and third plies gives additional impact resistance when handling heavier timber
The bottom of the belt is a very low friction bare fabric that reduces the power required to drive the conveyor and allows the belt to run at high speed
Slider bed conveyor construction is simple and economical compared to the moving components required on troughed conveyors.
Viking MOR 
MOR (Moderate Oil Resistant) is a economical alternative.  It is a rubber conveyor belt designed for applications with intermittent or moderate oil exposure with moderate wear performance, such as in the Timber Industry. 

Profiled Belts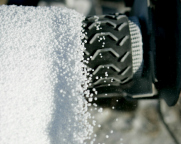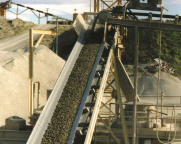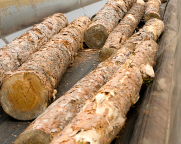 These belts are designed to move products while they are on the incline of the conveyor system.
Chevron/Cleatface
Chevron/Cleatface belt is a moderately wear resistant V cleated belt designed for conveying materials that are to move up steeper inclines (generally over 15 degrees).

Rubber Rough Top

 
Rubber Rough Top belts are primarily used on packaged goods on incline conveyors.

Solid Woven
High tear resistant belts used for sorting, material handling and transfer.

Yokoham

a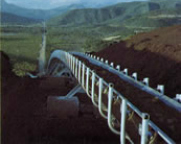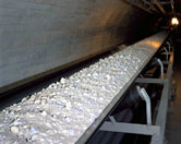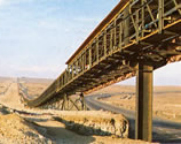 Yokohama Rubber is one of the world's leading makers of heavy duty conveyor belts. The Yokohama product range offers highly durable belts which are suitable for use in mines, quarries and harsh environments.
The key to rationalisation of a conveyor system is to choose the right belt for the task. Yokohama Rubber conveyor belts are available in a broad range of specifications relating to cover compound, carcass and structure. The belts are at a premium level and tailored-made to meet the specific requirements of a site.  They offer a unique solution.
The Yokohama Product Range includes:
Contact us today to discuss the right Yokohama solution for your site.