Volta belts meet the highest standards for quality and reliability, and also the toughest international standards for food contact materials.
Today's market demands superior hygiene levels, low production and maintenance costs and top quality conveyor belting products.
Volta's flat homogenous belts are the newest generation in belting technology designed to solve the most crucial conveying problems in a variety of industrial and food applications.
Food Belts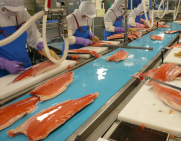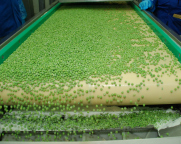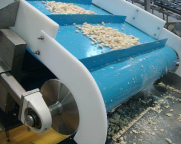 The food grade conveyor belts from Volta are made of a homogeneous thermoplastic elastomer (TPE), which provides an excellent contact surface for raw, cooked and frozen foods. They are available with structured non-stick surfaces or high grip surfaces.
Benefits
No modules, links, hinges or crevices that harbor bacteria and deposit fragments into the food
No seams or plies that fray and delaminate; no detachment of flights and guides common plied belts
Easily cleaned in place in very short time
Reduced cleaning costs (labor, water, chemicals, wastewater treatment) and downtime
Reduced loss of food
Consistent hygiene level over time
Lower bacteria counts, cleaner product, less investment in conforming to standards, longer product shelf life; suited to HACCP
Easy to weld or make repairs on site
Find out more about Volta's Food Belts 
Positive Drive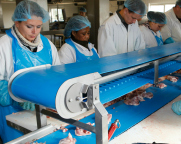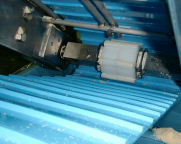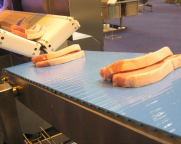 SuperDrive                                        DualDrive                                           DualDrive (SP)                            
The positive drive belts from Volta include SuperDrive, DualDrive and DualDrive (SP). 
Volta's Positive Drive belts are smooth, with no minute crevices. Its unique thermoplastic elastomer (TPE) material has been specifically designed to repel bacteria. And because it's a fully extruded homogeneous belt, it's free from fraying threads or fragments that can cause food contamination – and major nightmares.
You maybe wondering about the additional cost involved. Here's the good news – Volta belting can actually represent a significant saving That's because the material is very easy to clean, keeping water consumption and handling time to a minimum, while also offering prolonged productivity.
Find out more about SuperDrive, DualDrive and DualDrive (SP)
Mini Positive Drive

                     
The positive drive product range from Volta now includes a series of mini positive drive belts - Mini SuperDrive, Mini SD Pulleys and Mini DualDrive.
They are designed to suit wet and dry applications in the food industry.  They enable relatively small pulleys to facilitate the tight transfer of product.
The Mini Positive Drive range offers:
A fully hygienic solution for tight transfer applications
Small pitch system to allow for fabrications
A fully homogeneous belt
No complex additional mechanisms - this allows for the design of a total hygienic conveyor system with fast and effective cleaning
Find out more about Mini Positive Drive 
Low Temperature (LT) Belts for Deep Freeze Applications
Volta's Low Temperature belts are a thermoplastic material with excellent strength and enhanced resistance to frozen temperatures.
The LT (Low Temperature) belting is rated for use at temperatures down to -35° C / -31° F. The belting will not crack and fragment. It is not brittle which means an end to fragmented particles being fed into the product flow. For extra safety, it is manufactured in a food-certified blue color.
The belt is employed in plants processing fish and vegetables in deep freeze environments and it can be perforated for use in freezer tunnels. It is available in continuous lengths with a maximum width of 1500mm. 
In addition to the resistance to low temperatures, the LT material adheres to the Volta tradition of low bacteria counts and offers the usual Volta savings in running costs with reduced cleaning time and low maintenance.  Factories working at close to full capacity will benefit from the availability of extra production time currently wasted on cleaning procedures needed for modular belts.
Find out more about Low Temperature Belts
Volta V & Round Profiles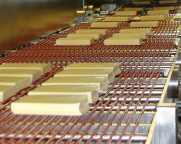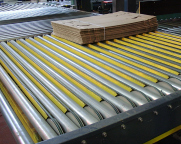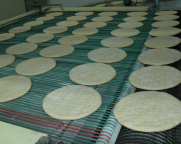 Volta Belting Technology manufactures a range of V and Round belts (VaR). This line of products meets the highest standards of quality and durability, and is manufactured from quality materials.
At Viking Conveyor we can offer you a number of VaR products that includes a range of hardness, colours, and reinforced belts, as well as unique profiles to meet your special industry application. 
Good reasons to use Volta VaR Belts on your application:
Resistant to water, oil and chemicals
Long and reliable life service
Welded top coatings for special applications
Custom profiles on request
Easily welded with Volta Tools
Volta Tooling
Volta Belting offers a range of tools and toolkits that are designed to ensure high-quality welds and fabrications across the entire range of Thermoplastic Elastomer (TPE) belts.
Volta Belting tools combine long-lasting ruggedness with a lightweight, compact design that makes them easy to handle and deploy on site or in the workshop.
Simple installation
Low-waste, low-fume installation suited to food-processing conveyors and other clean environments
No coolants required
Volta Lace Systems
The Volta Lace is a device that allows you to easily open the belt for cleaning or servicing of the conveyor. The lace can also be used in applications where metal detectors are required and we can provide you with a polyester hinge pin upon request.
Volta lace is compatible with Volta 'M' Family Flat Belts of 2.5 to 5 mm thickness. Specialized lace is available to suit the teeth spacing of the Dual Drive and DD SP belts.
All Volta flat belt material is easy to clean without removing it from the conveyor and therefore we only recommend lace when absolutely necessary.