Ammeraal Beltech is one of the world's leaders in process and conveyor belting.  They have built up a reputation as specialists for the innovative design and manufacture of a variety of belting systems for very diverse markets. These include food, airports, logistics & mail, tobacco, paper & print, textile, automotive, rubber & tyre and wood.
As part of their brand offering Ammeraal offers RAPPLON(r) which is a range of high performance flat belts featuring a range of drive belts designed for manufacturing processes.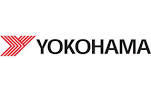 Yokohama Rubber
Yokohama Rubber is one of the world's leading makers of heavy duty conveyor belts. The Yokohama product range offers high durable belts suitable for use in mines, quarries and harsh environments.
The key to rationalisation of a conveyor system is to choose the right belt for the task. Yokohama Rubber conveyor belts are available in a broad range of specifications relating to cover compound, carcass and structure. The belts are at a premium level and tailored made to meet the specific requirements of a site - they offer a unique solution.